1
« on: November 15, 2019, 09:45:21 PM »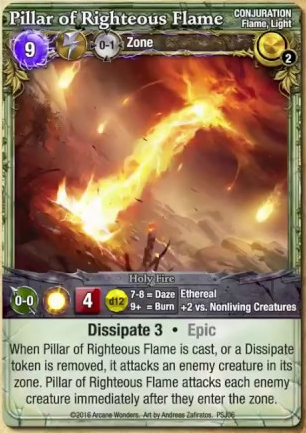 Pillar of Righteous Flame. Arguably the most powerful legal MW card since the expansion Paladin vs. Siren. Or is it?
First of all, how do we even judge the strength of a card? We look at one card and experienced players can immediately assess if this card is strong or not. How do they do this? They compare it with similar, known cards!
For example:
We see a lvl 2 creature with 8 life, 2 armor and 3 dice attack. Nothing else. No effect. And it's an animal.
So how much mana would you estimate for this creature? Certainly not 9 mana, because for 9 mana you get 10 life, 2 armor, 4 dice.
And 8 mana? On that slot this unit would compete with the Silverclaw Ratel (8 mana, 8 life, 1 armor, 3dice piercing 1, when it is damaged, the Ratel has doublestrike)
No need to tell you, if that thing would cost 8 mana, noone would ever play this theoretical card.
So what if it cost 7 mana? Is it a good card now? "Good" as in, does it get played with a manacost of 7? Probably not because for one mana more you can get far more "dmg output" with the Ratel on the board.
Now imagine it is a knight. Suddenly all I wrote up there isn't relevant any more. Now your point of comparison immediately changes to the little Asyrian Defender. 8mana, 8 life, 2 armor, 3dice, def 9+ is now the point of reference. Again it is obvious that 9 or 8 mana is too much for my vanilla creature that I described. Considering that even the Asyrian Defender is very very seldom played, we can infer that the defender is too weak for its mana-cost.
Now ... imagine it is a demon. With what do you compare my vanilla 8life, 2armor, 3dice demon now? Either with Afflicted Demon or the Scourger I presume. Or you go with the Firebrand Imp.. And actually compared to the Firebrand Imp which is 5 mana, 6life, 2dice (fire) + flame immunity my vanilla demon suddenly doesn't look that bad. For 2 more mana you get +2 life, +2 armor and roughly the same attack.
And now imagine I say it is a shark. Again ... I guess by now I have made my point clear. We use known,
similar
cards as reference if we judge how strong a card is.
If I ask you how good a creature is, you won't reference "Wall of Steel" in your reply and tell me that I only need 6 turns to get through that wall. You'll look for a similar creature to compare it with!
---
So let's face the question you have all been thinking about. If you have to judge how "good" Pillar is, with what do you compare it? I think there are 3/4 different card types you can compare it with.
First of all.. the most obvious one, we compare it with other conjurations that trigger an attack when someone enters the zone:
Apart from Manglers Caltrops and Bed of Urchins ... there are none to compare it with. I think it goes without saying that next to Pillar those two cards look... underwhelming. See for yourself:
Manglers:
https://gyazo.com/07987c65d4121f0a8221a5918ba4387c
Urchins:
https://gyazo.com/15e66df60ed823caab814d4379154b02
Pillar:
https://i.gyazo.com/a91fa452eb00561b01e5d34ed3a1772e.png
We could also compare it with another card that is .. hmm.. apart from one effect very very similar:
Thunderstorm:
https://gyazo.com/14108c1e6004008c2a70ecda5f611e35
Have you ever seen this card in a game? Probably not. Even though it's 3 mana cheaper and only has 1 attack-die less.
Well.. let's compare those two cards. Thunderstorm costs 3 mana less, as I said. But it doesn't attack when you cast it, only when a dissipate is removed. So that's a guaranteed 4 dice attack less than Pillar has. A simple 4 dice attack is worth 4 mana. That alone makes the Pillar superior. But the strongest feature of the pillar, the attack on entry and the +2 vs non-living is not even included yet in the manacost. Well, it feels wasted to compare those two cards, we all know that Pillar is way way better than Thunderstorm.
Now we could compare the Pillar with traps but let's come to the interesting comparison. In essence the Pillar is an attack spell, even though it's technically a conjuration. So let's compare it with attack spells. I guess it's best to compare it with Hurl Boulder. Finally a card that gets _frequently_ played in tournaments. A card that has many equal alternatives:
Fireball, Force Hammer, Lightning Bolt - they are all rather close together in terms of strength / mana efficiency.
Hurl Boulder, the classic attack spell. Frequently used to kill conjurations or to deal the last needed damage to finish the opponent:
https://gyazo.com/0576b810f65381bd0e617e840c2cd6a7
8 mana, 7 dice, range 0-2
Finally a card we can really measure the Pillar against. But considering that the Pillar is ethereal maybe we should take the ethereal counterpart to the Boulder? That would be the Lightning Bolt. Also 8 mana but only 5 dice. So they subtracted 2 whole dice because its attack is ethereal? Well, and because it can roll a better effect. Let's say the ethereal was one dice and the better effect the other dice.
Here is the Lightning Bolt, maybe the closest attack spell we can compare the Pillar to:
https://gyazo.com/10e4c480e0adc1a8857bab1fbdc6c4da
You can draw your own conclusions, the post is getting to lengthy as it is.
---
I want to take a stance against three main arguments I have heard so far:
"Pillar is not too strong because ... ['insert card' is better] dissolve and dispel are better"
First of all as you have seen in the beginning, I reject the whole premise of taking completely unrelated cards which have a fundamental different application as reference for a comparison.
But even IF I were to compare those cards with the Pillar I have to answer:
Dispel and Dissolve are zero-sum cards. You destroy something for exactly the same cost that your opponent paid for it. To destroy a 5 mana enchantment, you have to pay 5 mana. You win nothing in terms of mana.
Yes, it might be crucially important to dispel that enchantment and I'd rather not have a Pillar in my book than no Dispel or Dissolve, but that's not how the value of
any
card is determined, as we have discussed in the beginning.
Second argument goes like that:
"I have seen many games in which Pillar only gets 2 attacks out and then it's 9 mana for 2*4 dice ethereal with daze/burn chance, that's not broken."
And I agree. In the worst case scenario the Pillar is not broken. In the utterly worst case scenario Pillar is like two a mixture of those two attack spells:
Arc Lightning:
https://gyazo.com/2bc601d803d6342a6533360bac110f0f
Firestream:
https://gyazo.com/8019d88a6a86096697383f3330a91691
And I admit, very few people would play those spells without hawkeye and other buffs. So you basically cast 2 spells with one action, but yeah... I agree that in the worst case scenario Pillar is not very impressive.
But highly situational cards are not judged by their worst case, but by their best case.
You don't look at Purify and say "well, if I neither have poison conditions nor poison enchantments, that card is utterly useless" when you build a deck. You think about prior games and on that basis you decide how likely it is that a situation arises in which Purify would be the best option in your entire book. And how dearly you'd miss it if you had to choose another option. Dispel for example. And most here would probably go for a Dispel instead of Purify even though in a best case scenario Purify is way way better. But how likely is said case to actually appear..
I have seen many many games in which Pillar was the sole pivotal card of the entire game.
Keejchen vs. markus at the German Championship this year. I've forgotten how many dice he has gotten out of the pillar.. The whole skeleton army forcewaved into that pillar.. Game over, in one move. From "he has no chance" to "he has won" in a single turn. Yes, he needed another card to pull that off, does that make force wave the second best card? Nope :p
The damage potential this card has is insane. Against every necro you have with minimal effort at least 4*6 dice, if you play against bloodthirsty zombies regularly 6*6 dice and more. And they don't even have armor! And the daze/burn chance is also increased against undeads.
Also, necro is one of the top mages. Having a card that obliterates undeads is very beneficial. Imagine two necro players, one has the pillar in his book, the other doesn't. The necro who has Pillar will probably win 10/10 games, that's how much impact this single card has.
And this is my problem with the card. You are practically forced to include it because it gives you such an insane advantage against every mage who uses non-living creatures. And accidentally, if you meet a Fire Elemental or a Whirling Spirit or an Invisible Stalker or a Gray Wraith ... You can trade very very favourably. 9 mana for 20/12/15/10 and you still have some attacks left for other targets.
The third aspect that makes this card so strong, apart from its undead and incorporeal kill mechanism, is whenever both sides play with creature spawnpoints. Imagine it's the turn in which you engage, both sides have 5 lvl 2 creatures. Your opponent attacks your field with 2 creatures, after that you play the Pillar in your zone. Now either he takes 4 dice for every additional creature he sends into this zone or he "surrenders" his investment and will lose the 2 creatures he has send into your zone. Also, next turn you play chant of rage and take is best remaining creature into your killing zone. Or you forcepush a creature that already moved. Or or or or.
This card has so many applications, you can even use it for dealing dmg to the enemy mage, if you prepare accordingly. I sometimes see the enemy mage keep standing in the same zone with the Pillar, because they expect me to forcepush/teleport them back into the zone anyway and then they used mana and actions to get away but because I am prepared they are in a worse position than before.
This card is well above the powerlevel of any comparable card. What are my suggestions to fix it? I don't mind that this card is insanely powerful in the right circumstances. I mind that it comes so cheaply to have such a powerful tool with you.
- First of all: Make it more expensive, so that you really have to sacrifice other tools if you want to include the Pillar into your book. I suggest lvl 4 holy.
- Secondly, remove the ethereal. Incorporeal creatures already don't see any arenas from the inside.
- Bump it up to 13 mana, that way you have at least to plan ahead if you want to use that card and cannot decide at the beginning of every turn if you want to use it now.
- Remove "non epic" from "Siphon Energy" target bar.
How do you judge how strong a card is?
What are your craziest Pillar-moments?
Do you think the card needs to be re-balanced? Why, why not?
I hope we see a civilized, fruitful discussion here and feel free to rip my text apart